7.27%

 =

DEPLETED
How It's Calculated
FINDEX measures the gaps between target values necessary for population recovery and the current estimates of those values. For Southern Flounder, the gap assessment used target and terminal values of fishing mortality and spawning stock biomass from the NC Division of Marine Fisheries' most recent stock assessment.
(0.385 x 0.189) x 100 = 7.27%
FINDEX = 7.27%
7.27% =

DEPLETED

What does Depleted mean?
Depleted indicates that the stock is overfished and severely impaired. Southern Flounder are being removed too rapidly from the stock, and the estimated number of spawning females in the population is well below target levels for a sustainable fishery. Factors contributing to Depleted FINDEX status include overfishing, low numbers of mature females, poor recruitment, and natural mortality. 
Commercial Southern Flounder Trends
The graph below illustrates commercial Southern Flounder harvests from 1979 through 2020. In 2020, 526 fishers recorded 3,494 trips harvesting 480,066 pounds of Southern Flounder valued at $1,057,875. Supporting data was sourced from the North Carolina Department of Environmental Quality.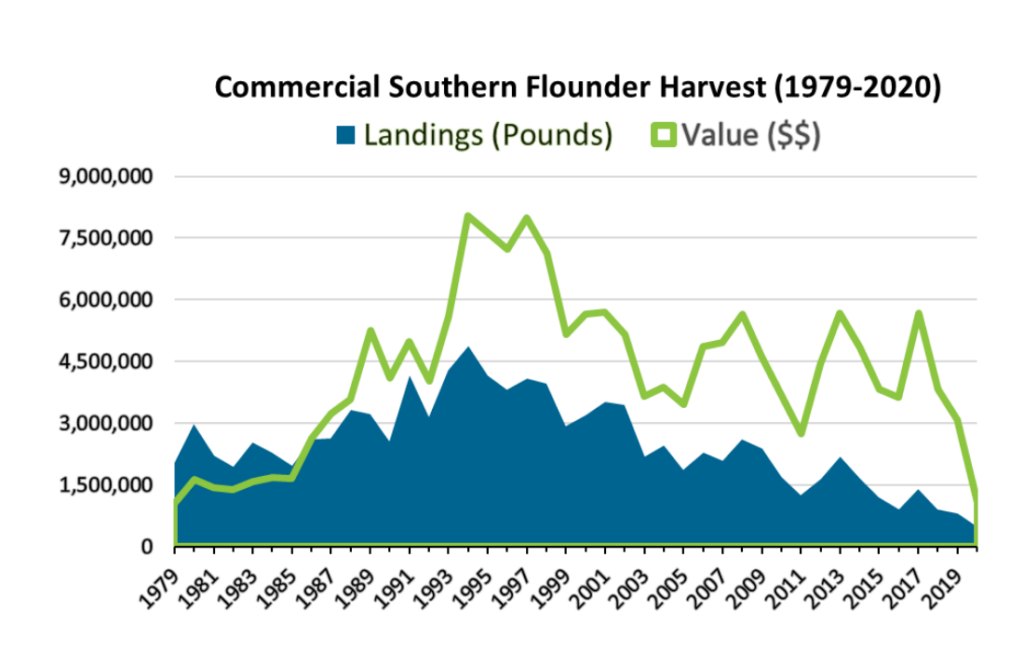 Recreational Southern Flounder Trends
The graph below illustrates recreational harvest trends for Southern Flounder from 1986 through 2020. In 2020, recreational fishers harvested 152,244 Southern Flounder, weighing 398,769 pounds. Supporting data was sourced from the North Carolina Department of Environmental Quality.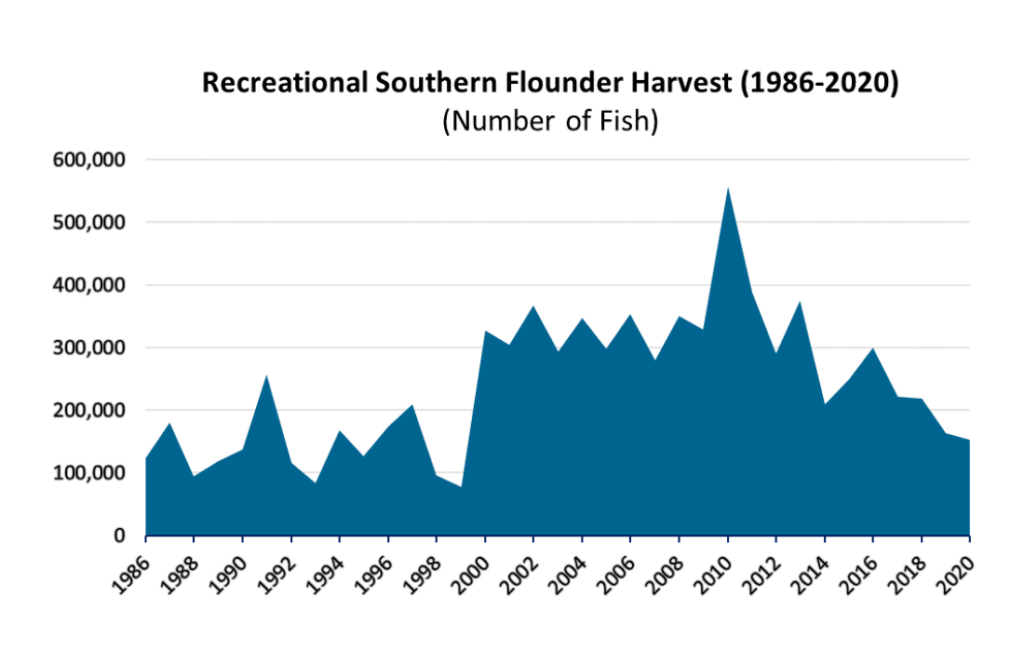 State Record
North Carolina's state record flounder was landed at Carolina Beach in 1980 by Harold Auten
The fish weighed a whopping 20-lbs, 8-oz
Did you know?
Southern Flounder are considered 100% mature at 22-inches or 3-years
They can grow to be as large as 33-inches and live to be 10-years old
Catches in North Carolina range from 15 to 18-inches and 1-2 years
2022 Harvest Seasons for Southern Flounder
The 2022 recreational flounder season will open at 12:01 a.m. Sept. 1 and close at 11:59 p.m. Sept. 30
The season will open with the following provisions for both the recreational hook-and-line and gig fisheries: One-fish per person per day creel limit, and a 15-inch total length minimum size limit
What's next?
FINDEX provides the most recent stock status updates for a variety of North Carolina's finfish species. As new data is made available, FINDEX values will be revised. If you're interested, FINDEX can be delivered to you each month if you subscribe to Think Coastal.
Formed in 2017, N.C. Marine and Estuary Foundation was established with the vision of North Carolina becoming the premier fishing destination in the country. Toward this goal, the N.C. Marine and Estuary Foundation equips citizens, researchers, legislators, policymakers, stakeholders, and other organizations with high-quality scientific information to help solve challenging fisheries issues.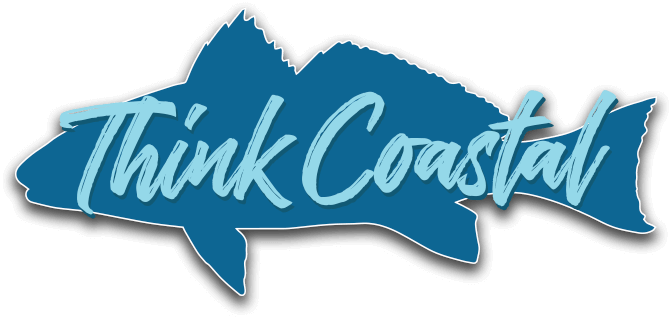 Sign up for our newsletter to receive FINDEX updates and breaking coastal news in North Carolina!